The Cottage Café is on vacation from October 21 to October 28, 2023
Resuming Monday October 31th at 7:30 am
See you soon !
The Cottage Café
The little brick house, located just behind the plaza that is home to the Duke of Brunswick's gothic canopy, probably served as a temporary accomodation for the construction crew between 1876 and 1879, then as a gardener's pavilion and eventually, as a café in or around the 1930's. Left completely vacant in 2006, it was renovated by the City of Geneva, thoroughly refurbished and brought back to life in 2008 by Nicole Boder and her team.
The old gold stuccos, the black tile floor of the bar section, brown parquet of the veranda, furniture and oddities from the flea market, outlined by a warm light arrangement and laid-back music, make it a cozy friendly space. As for the Duke, out there in his glorious chamber swept by cold winter winds and frequent downpours, he would have most likely fancied popping in for a coffee….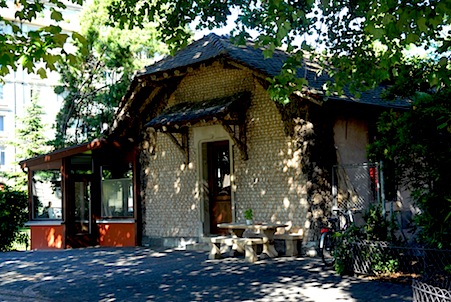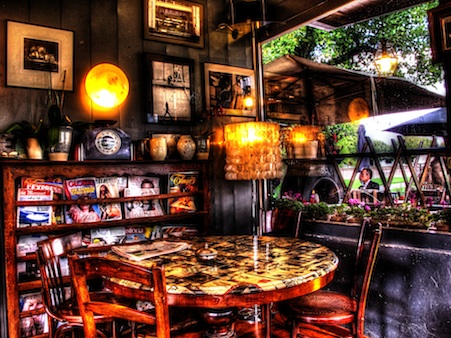 Nicole Boder
Born in Marocco, raised in Israel, she moved to Switzerland at age 20.  She is self-taught, passionate and polyvalent: cinema, photography, light fitting creation, fashion, interior design, cooking,.. are among the many interests she's pursued over the years, with a strong sense of eagerness and curiosity.
She worked for 15 years as a waitress then as a cook in her hometown of Neuchâtel, 3 years as a chef at the Maison des Arts du Grütli in Geneva and finally opened her own restaurant in October of 2008. An authentic place for a meticulous cuisine, in a detailed decor and atmosphere, at the meeting point of her passions.
The Brunswick Monument
You liked the Taj Mahal? You're going to love the Brunswick Monument…
On the Quai du Mont-Blanc, facing the Geneva water jet, stands an eerie neo-gothic construction of pink marble, outrageously kitsch to some, fascinating and mysterious to others. Built in 1879, it is the last resting place of the shrouded corpse of a controversial figure named Charles Frederic Auguste Guillaume, Duke of Brunswick, a fabulously rich excentric philanderer. He was dispossessed of his throne at his brother's benefit and spent his entire life across Europe, getting involved in numerous political and moral intrigues, before retreating, first to a fortified palace in Paris, then finally to a suite at the Beau-Rivage Hotel in Geneva. The last shelter he found was in a bathtub filled with formaldehyde, after he suffered a fatal stroke in 1973, while the City of Geneva perused his will and found out it had been bequeathed the Duke's enormous fortune (22 million gold francs, about 22 billion francs today) in exchange for an eternal tomb to be erected at a "preeminent and dignified location."